Welcome to Party Gym
Private Parties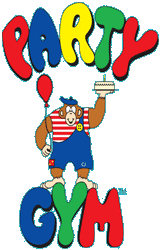 Party Gym has been setting the standard for children's Private Parties for over 20 years. Our goal is to afford our customers a safe, clean and family-friendly environment and to have a birthday party for your child that is private.
At Party Gym the birthday child is always special, but we have also designed our facilities so that parents and adult guests are comfortable attending the party and have a great time socializing with family and friends while the children run, jump, slide, climb, laugh and play. We pride ourselves in taking the stress out of having a party. We take care of everything. We are not open to the public during your child's Private Party.
We are Not Open to the Public during your Child's Party
Open Playtime Hours
Tuesdays 4pm to 7pm
&
Thursdays 10am to 2pm
 $11 per child
(Tax-Included)
Socks are required
Any Tuesday  or Thursday children and parents alike are invited to join in on the excitement Party Gym has to offer. Our 12' spiral slide structure embodies a club house full of amusing activities, including an elaborate tunnel system, club house and ball pool pit!
"Open play" enables children freedom to climb, slide, jump and much more.